Cabinet cantonale des estampes Jenisch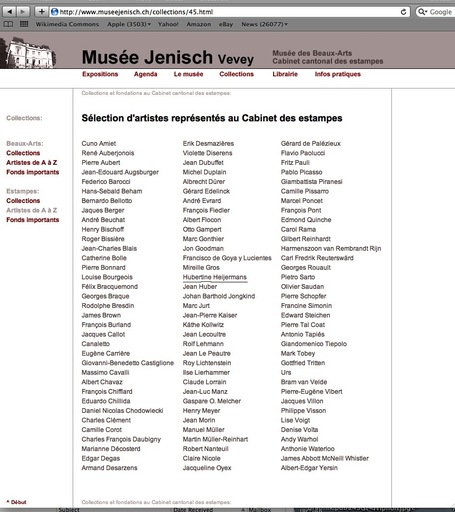 Cabinet d'estampes au Musée Jenisch Vevey Eaux-fortes 1972 - 1988 Depuis 1969 j'imprime manuelle- ment sur ma presse à papillons de Bendini-Bologna.
1972 De retour en Suisse après un apprentissage en Italie je gravais des sites Vaudois contre le profil du Grammont ou Dents-du-Midi.
1981: Depuis l'ouverture de mon Atelier dans la Commune d'Ollon j'ai continué à graver le patrimoine vaudois en taille-douce et en photogravure, technique du 19me siècle, ramenée en Europe par des Américains comme Jon Goodman, Luis Camnitzer et David Finkbeiner.
1993: Je rencontrais Monsieur Charles-Henri Favrod, et depuis le Musée de l'Elysée à Lausanne garde 45 photogravures de ma main selon le procédé de l'héliogravure à grains.
La conservatrice du Musée Jenisch, Nicole Minder a rajouté à la collection du Cabinet cantonal des estampes, 50 eaux-fortes et gravures sur bois, ainsi que mes lithos. Il ne figure pas sur la liste ma lithographie avec 5 oiseaux pendus, réalisée avec 3 pierres alignées.
Since 1969 I print myself on my etching press Bendini-Bologna. When in 1981 my Studio was inaugurated in the Commune of Ollon I started etching farms, barns, fountains and villages. The table-blade with the etched plate and care- fully positioned sheet of paper, passes between 2 steel rollers by turning the spikes of the wheel by hand.
After printing an etching needs to dry suspended on a line, after which the etched paper is moisturized again and flattened between heavy planks and sheets of blotting paper. The edition is numbered with a pencil on the left-side. In the middle underneath the image I add the title and on the right I write my signature and year of creation. Since 1993, after meeting the conservator Mme Nicole Minder 50 of my etchings, lithos and color-prints are being kept in the Cabinet cantonal des estampes of Musée Jenisch in the town of Vevey, Switzerland.
The 'Pays-d'Enhaut' is reached by crossing the 'Col de Pillon' that separates Vaud from Bern. First one reaches Gsteig and Feutersoey, then Grund and Gstaad. A bit further come Rougemont, Gruyères and 'Les Mosses'. Of all these sites I made etchings on 25x31cm plates but also continued my free subjects when working in my Studio. Engraving on a plate outside in the open is strenous as most of the time I am seated in front of a mirror with my back turned towards the subject, because the image once printed comes out in reverse.