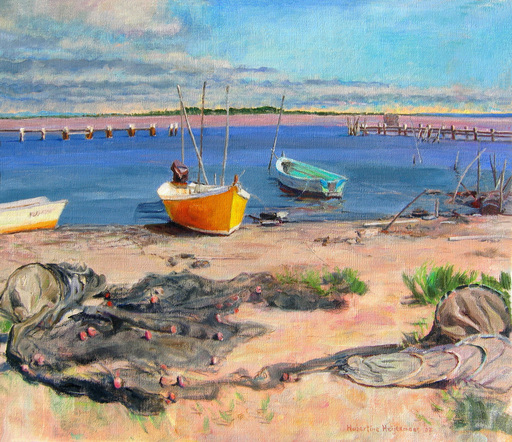 Paintings in oil
Watercolors
Etchings
Portraits + Landscape
Switzerland, Italy, Spain,
France and The Netherlands
HUBERTINE HEIJERMANS
Born in Amsterdam,1936. Scholarship at the Royal Academy in 1956-58. Marriage to Nils (of Swedish nationality) on the 30th of september '58.
American Highschool Villa Schifanoia, Florence: 1968-71 specializing in etching with Prof Swietlan Kraczyna and in lithography with Dennis Olsen on stone, Master of Arts diploma: purchase of an etching press Bendini in sep71
Florentine painter Pietro Annigoni who portrayed Queen Elisabeth and American president Kennedy shows her recipies of home made oil paint and egg tempera and how to apply a 'ground' for a panel or canvas with resistant but toxic lead-white, that enhances paint for centuries. In 1974 she paints portraits or landscape 'plein air'.
1975 She starts her Studio for etching and photo-etching as a professional printmaker in Switzerland.
Luis Camnitzer of Pratt's Institute New-York comes to Italy to teach multi-plate color-etching and photo-etching on light sensitive plates. Students apply soft- or hardground, liftground, make multi-plate etchings. With Camnitzer and assistant David Finkbeiner the artist practises PHOTO-etching: a photo transfered on a light sensitive plate becomes an etching to be inked, wiped and printed. (Valdottavo 3 month's summercourse 1981)
Camnitzer: his Conceptual Art is in the MoMA museum. In 1981, after the course with Camnitzer the artist paints old barns but continues etching and in particular dust grain photo etchings until 1988.
She paints the catwalk of fashion designers like Gaultier, Yves StLaurent, Galliano, Manish Arora and Le Mindu. June1994-July1995 Singapore Nancy Roach Gallery exhibits Hubertine's oils+etchings, selling everything.
1996-'06 hibernating in Spain: study about Sorolla y Bastida in Valencia. Study of Joachim Mir y Trinxet, Barcelona. Hubertine paints flowering almondtrees in febr04.
2006-14 she sets off to Bages, South of France, paints fishingboats, Lake Leucate, Parc des Dosses, Collioure.
Musée de l'Elysée in Lausanne keeps 45 dustgrain Photo-or héliogravures. Musée Jenisch Vevey keeps 50 etchings in Cabinet cantonal des estampes.
2012 Heijermans shows work during the entire year in Musée Historique du Chablais, Wallis http://www.musee chablais.ch/site/index.php/expositions/galerie-photos
Since 2012 Léonard Gianadda, Museum of Modern Arts, Martigny keeps her book 'Parcours d'une artiste-peintre' by PA Genillard in the library of Fondation Pierre Gianadda, also in the BCUL Bibliothèque Cantonale Universitaire in Lausanne.
In 2017 Michiel Nijhoff, library of the Stedelijk Museum in Amsterdam obtains a copy. Article in french language Wikipedia. In Venlo 23 etchings by Hubertine are being kept in museum Bommel-van Dam.