Paintings in oil or watercolor of landscape, portrait. Etchings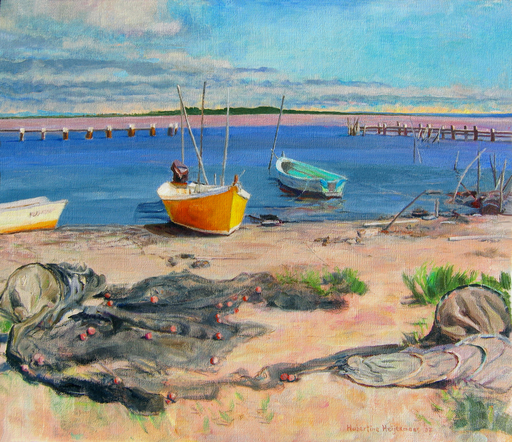 Paintings in oil
Watercolors
Etchings
Portraits + Landscape
Switzerland, Italy, Spain,
France and The Netherlands
HUBERTINE HEIJERMANS
Born Amsterdam 1936, scholarship Royal Academy,1956-58. Married 30 sep 1958-72 to Nils Tellander and lives in Lausanne. With Nils consenting she studies at American Highschool Villa Schifanoia in Florence, Italy 1968-1971.
MA diploma: etching with Swietlan Kraczyna, lithography with Dennis Olsen. Purchase etching-press Bendini in '71. Pietro Annigoni who portrayed English Queen Elisabeth and American President Kennedy, shows to mix paint powder with egg yolk and add lead-white to underlying layers of paint.
1974 Portraits and painting 'Landscape' plein air'. 1975 She starts her Swiss Studio in St-Triphon (Vaud).
Luis Camnitzer of Pratt's Institute New-York comes to Italy to teach multi-plate color-etching and photo-etching on light sensitive plates: softground technics, liftground or multi-plate etchings.
Hubertine paints Swiss barns and until 1988 continues dust grain photo etching. Then she follows fashion designers like Jean-Paul Gaultier Yves St Laurent John Galliano Manish Arora and Le Mindu. 1994-1995 In Singapore at Nancy Roach Gallery she exhibits etchings, paintings and sells everything.
1996-2006 Study about Sorolla y Bastida in Valencia, Spain, and oil paintings of Mir y Trinxet near Barcelona. She paints flowering almond trees in february 2004-06. In the South of France she paints small fishingboats of Bages.
Musée de l'Elysée Lausanne has 45 héliogravures
Musee Jenisch, 50 etchings. Musée du Chablais keeps Hubertine's artworks. http://www.museechablais.ch/site/index.php/expositions/galerie-photos
2012: The library of Fondation Pierre Gianadda keeps her book by PA Genillard Parcours d'une artiste-peintre, in the town of Martigny; the BCUL keeps a copy in Lausanne, Switzerland.
In 2017 Michiel Nijhoff, librarian of the Stedelijk Museum Amsterdam obtains a copy. Dutch Museum Bommel-van Dam, Venlo keeps 23 etchings by Hubertine Heijermans.
Am. website Flickr Hubertine Heijermans Flickr Hubertine Heijermans
https://malen-lernen.org/fauvismus-merkmale-kuenstler/