Paintings in oil or watercolor of landscape, portrait. Etchings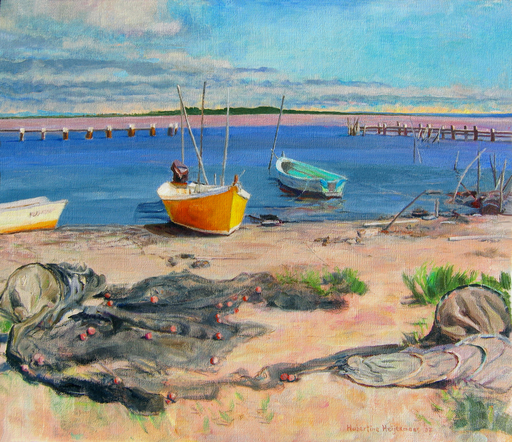 Paintings in oil
Watercolors
Etchings
Portraits + Landscape
Switzerland, Italy, Spain,
France and The Netherlands
HUBERTINE HEIJERMANS
Born Amsterdam 1936. Scholarship Royal Academy,1956-58 with Prof Gé Röling. Gets married on 30th of sep 1958-72 to Nils Tellander and moves to Lausanne. With his consent she studies at the Americ. Highschool Villa Schifanoia in Florence, Italy 1968-'71.
MA diploma: etching with Swietlan Kraczyna, lithography with Dennis Olsen. She purchases an etching-press Bendini in '71. Pietro Annigoni who portrayed English Queen Elisabeth and American President Kennedy, shows her how to mix paint powder with egg yolk and add lead-white to underlying layers of paint.
1974 Portraits and painting 'Landscape' plein air'. 1975 She starts her own Swiss Studio in St-Triphon (Vaud).
Luis Camnitzer of Pratt's Institute New-York comes to Italy to teach multi-plate color-etching and photo-etching on light sensitive plates: softground technics, liftground or multi-plate etchings.
Hubertine paints Swiss barns and until 1988 continues dust grain photo etching. Then she follows fashion designers like Jean-Paul Gaultier Yves St Laurent John Galliano Manish Arora and Le Mindu. 1994-1995 In Singapore at Nancy Roach Gallery she exhibits etchings, paintings and sells everything.
1996-2006 Study about Sorolla y Bastida in Valencia, Spain, and oil paintings of Mir y Trinxet near Barcelona. She paints flowering almond trees in february 2004-06. In the South of France she paints small fishingboats of Bages.
Musée de l'Elysée Lausanne keeps 45 héliogravures, by Hubertine Heijermans
Musee Jenisch, 50 etchings. Musée du Chablais keeps Hubertine's artworks. http://www.museechablais.ch/site/index.php/expositions/galerie-photos
2012: The library of Fondation Pierre Gianadda keeps her book by PA Genillard Parcours d'une artiste-peintre, in the town of Martigny; the BCUL keeps a copy in Lausanne, Switzerland.
In 2017 Michiel Nijhoff, librarian of the Stedelijk Museum Amsterdam obtains a copy. Dutch Museum Bommel-van Dam, Venlo keeps 23 etchings by Hubertine Heijermans.
Am. website Flickr Hubertine Heijermans Flickr Hubertine Heijermans
https://malen-lernen.org/fauvismus-merkmale-kuenstler/