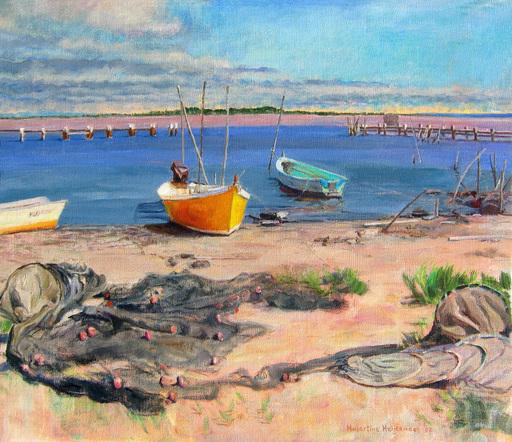 Paintings in oil
Watercolors
Etchings
Portraits + Landscape
Switzerland, Italy, Spain,
France and The Netherlands
HUBERTINE HEIJERMANS
1936 Born in Amsterdam.
1957 S
cholarship for the Royal Academy: drawing after life model for almost 2 years. 1958 Marriage with Nils Tellander, who lived
at the Lake of Geneva. 1960 F
irst exhibit of paintings in Lausanne.
1968-1972 American Highschool Villa Schifanoia in Florence Italy:
Master of Arts
diploma. Aquisition of an Italian Bendini press, a start to make and print etchings and photo-etchings (héliogravures) for the next 15 years. During 2012
work of Hubertine Heijermans was on show in Musée Historique du Chablais à Vouvry.
1981 Luis Camnitzer of Pratt's Institute New-York came to Italy, teaching dust grain photogravure and multi-plate color-etching. Work was done on light-sensitive plates with soft-hardground or liftground.
A photo-gravure is inked, wiped by hand and printed like an etching. It equals the Talbot-Klic process. Camnitzer's work is kept in the MoMA museum in New-York. E
nd '81
Atelier
Le Carroz opened at St-Triphon.
Hubertine
etched
farms and Dîme houses, but added dust grain photogravure until 1988. She made portraits or was inspired by fashion designers like Jean Paul Gaultier,Yves St Laurent, John Galliano, Manish Arora or Charlie Le Mindu.
June '
94 - july '95
Singapore
Nancy Roach Gallery Orchard Rd, exhibit of oilpaintings, watercolors and etchings.

1996-2006 hibernating
in Spain: study of paintings of
Sorolla y Bastida Valencia. I
n Barcelona she studied work of
Mir Y Trinxet,
In february 2004 painted en plein air
the flowering almondtrees.
2006-2015 many voyages to Bages in the South of France to paint
fishingboats or capture the colors of Lake of Leucate, Parc des Dosses and the harbour of Collioure.
Musée de l'Elysée
Lausanne keeps 45 dust grain photogravures or 'héliogravures'.
M
usée Jenisch
Vevey
has 50 etchings in the Cabinet cantonal des estampes of the artist: multi-plate prints and aquatints, prepared and handprinted in Atelier
Le Carroz
by herself. Since
2012 Léonard Gianadda
, Director
of the Museum of Modern Arts in Martigny keeps her autobiographic book '
Parcours d'une artiste-peintre'
by P.A. Genillard in the library of Fondation Pierre Gianadda.