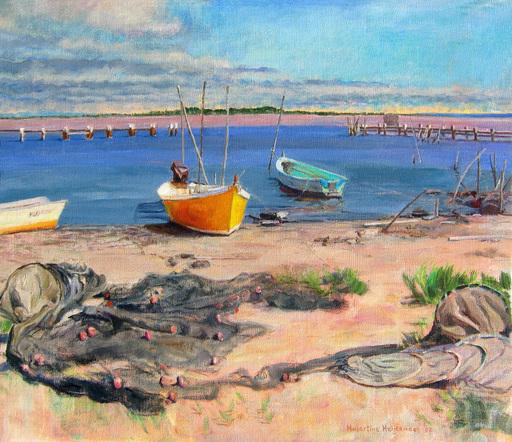 Paintings in oil
Watercolors
Etchings
Portraits + Landscape
Switzerland, Italy, Spain,
France and The Netherlands
HUBERTINE HEIJERMANS
Born in Amsterdam, 1936. Scholarship at the Royal Academy in 1956-58 and drawing after life model. Two years later she meets Nils Tellander and gets married in september 1958. He helps to exhibit her art in Lausanne.
American Highschool Villa Schifanoia, Florence: 2 full seasons 1968, specializing in etching and a year of lithography as there is a press and a helper to carry the stones after cleaning them for other students. Master of Arts diploma: encouraged she buys an etching press Bendini in september 1971.
She still paints but starts a printshop at home for etching and photo-etching (hélios), becoming a professional printmaker for 15 years. 2012 Heijermans is on show - the entire year in Musée Historique du Chablais, Wallis.
Luis Camnitzer of Pratt's Institute New-York came to Valdottavo teaching multi-plate color-etching. He focussed on photo-etching on light sensitive plates. Students applied soft- or hardground and 'liftground' and made multi-plate etchings. With Camnitzer and assistant David Finkbeiner the artist practised PHOTO-etching: once a photo is transfered on a lightsensitive plate it becomes an etching to be retouched, wiped and printed like an etching.
As resin particles are used for photographic transfer the aquatint box was often needed. It was tricky to use too much or too litlle resin particles, as it either left the photo without contrasts or drowned it in 'powder' and one had to start all over again.
A successful photo however is incredibly beautiful. Talbot in England, Klic in Cschechoslovakia, inventors of the Talbot-Klic procedure started the principle of photography, setting the pace for master photographers like Alfred Stieglitz.
Camnitzer has his Conceptual Art kept in the MoMA museum and In 1981 the artist opened her Studio 'Le Carroz' in Saint-Triphon, where she painted farms, barns, fountains, mountains or the landscape in oils. But she continued to work her etching and spent hours of printing or making dust grain photo etchings until 1988.
Painting portraits relaxes her and in particular children - yet fashion designers like J-P Gaultier, Yves St Laurent, Galliano, Manish Arora or Charlie Le Mindu were more inspiring and Hubertine loved to paint in oils topmodels of the extravagant fashion houses.
June
94 - July 95
Singapore:
Nancy Roach Gallery Orchard Rd held an exhibit of oils, watercolors and etchings, selling almost all the artworks.
1996-2006 hibernating
in Spain: Hubertine studied paintings of
Sorolla y Bastida in Museo dellas Bellas Artes, Valencia. Sorolla was an impressionist. He even won
the Prix de Rome (19th century) In Barcelona she sees work of expressionist Joachim Mir y Trinxet. She then paints flowering almond trees in february 2004.
2006-14 she traveled to Bages in the South of France, painted
fishingboats, the Lake Leucate, Parc des Dosses or the famed harbor of
Collioure

.
Musée
de l'Elysée
in

Lausanne keeps her 45 dustgrain Photo-or héliogravures.
Musée Jenisch in
Vevey keeps
her 50 etchings in the Cabinet cantonal des estampes: all handprinted by herself in Studio 'Le Carroz'.
Since 2012 Léonard Gianadda, director of the museum of Modern Arts in Martigny keeps her book 'Parcours d'une artiste-peintre' by P.A. Genillard in the library of Fondation Pierre Gianadda.